NOTE: If you normally wear a size C cup or more, order the next larger size for a more comfortable fit.
M (35-37)
L (37-40)
XL/1X (40-43)
2X (43-46)
3X (46-50)
4X (50-54)
Closure Type: Elastic Strap
Move Throughout Your Day In Total Comfort. And Love Your Curves Again!
Incredible Comfort: The revolutionary genie bra offers the comfort all women wish for - it is the ultimate in seamless comfort and support. So comfortable you can even sleep in it!
Perfectly Seamless: The Everyday, All Day Seamless Bra So Comfortable You'll Forget Your Wearing It!
No Wires, Hooks Or Straps Digging Into Your Skin: The secret everlasting comfort stretch fabric simply does not need any wires, hooks or straps.
Insta-Cool Technology: Breathable fabric allows fresh air in and helps keep perspiration out to help lower your skin's temperature. You stay dry & say bye to sweat in the bra that fits YOUR body perfectly!
Durable: Go ahead, stretch Genie Bra from end to end, and it will resume its shape. Removable modesty pads provide extra lift and coverage. Genie Bras even make great camisoles.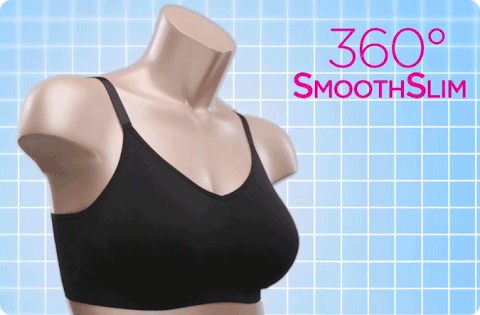 Genie Bras Offer Comfort that Won't Quit
Genie Bras were made with your comfort in mind. The comfort stretch fabric feels like a dream against your skin! Seamless, pullover design lifts and separates, then conforms instantly to your shape. 😍
No more constant tugging at your bra to put it back in place. No hooks or straps to adjust. Nice broad support straps never slip down. And the wide bottom band eliminates the need for painful underwires digging into your skin. This classic favorite just might be the perfect bra!
BEFORE AFTER RESULTS
What makes Genie Bras different from other bras?
They're perfectly seamless with no hooks or straps to adjust and no painful wires. Features include:
Seamless, pullover design
Comfort stretch fabric
Broad support straps
Wide, no-roll bottom band
If you have questions or concerns then please do not hesitate to get in contact with us.

We would love to hear from you, contact us on:

Email: [email protected]
Phone: +852 96074962
Frequently Asked Questions:
Q: How do I change the shipping address or cancel my order?
A: Please contact our Customer Service Team immediately if you need to change the shipping address or cancel your order. Please be that some orders are shipped very soon after placement and it will not always be possible to make changes to the shipping address and/ Or cancel the order.
Q: How do I use a coupon code?
A: Lucky you! To use your coupon code, add all of your glam goodies to your shopping cart, and begin the checkout process. There will be a box to enter your code, then just click "apply". Coupon code cannot be used for orders already placed.
Q: How do I opt-out of emails?
A: Why would you want to? Our fans receive all kinds of perks and special gifts. But if you want, just click the 'unsubscribe link at the bottom of any emails.