Turn your pool into a crystal clear in this hot summer!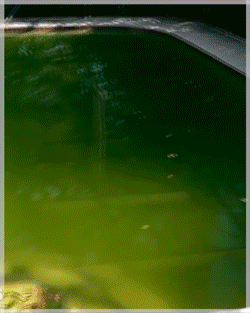 Our Magic Pool Cleaning Tablet effectively eliminates viruses, bacteria, algae organisms, odor, etc. in pool water.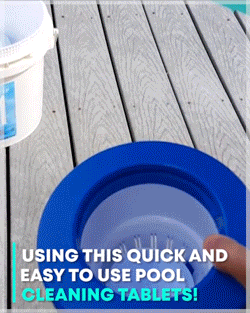 The tablet designed to dissolve once in contact with pool water which lows chlorine to spread out. quickly through the floating dispenser for instant sterilization


lt can also prevent chlorine loss from direct sunlight while stabilizing it, reducing the use of other harmful chemicals.
This pool sanitizing tablet is a must-have item for your safer, cleaner, and more enjoyable swimming experience.

FEATURES:
Safe & Non-Toxic
Made of high-quality materials to eliminate viruses, protozoa, odor, and stains in the pool without causing skin allergy.
Strong Sterilization: Kills 99.9% of bacteria and control algae growth for effective cleaning and purification
Customer questions & answers
Q: I have an 8x 30 Intex pool. How many tablets should i use?
A: Put 2 tablets in floating dispenser every 3 days
Q: Do I need a dispenser?
A: These don't fully dissolve for about 5 days so yes you need a 1" dispenser.
Q: Is this product recomended for use in spas?
A: Yes, can also be used in spas. However, you would NOT need more than one tab for the average hot tub. Assuming you would be using a floater and assuming the average hot tub is around 500 gallons.
Q: Can you use these in a 608-gallon pool?
A: Don't see why not. Just use 3 or 4 tablets in a floater. And keep an eye on it. I use 2 in a floater. For my grandbabies pool.
Tips
Indoor and outdoor air spray disinfection in households and other places, spraying liquid 10=20ml per cubic meter
Kitchen, bathroom sanitary ware, floor immersion or scrubbing disinfection (please see the instructions below for details))
Put the disinfectant tablet in
the water
tighten the cap
leave it for 10 minutes
Category
Category object
Disinfectant preparation ratio
Instructions
Swimming pool
villa pool, sauna, indoor or outdoor
swimming pool
Using 2 grams of this product per ton of water can increase the effective chlorine concentration in the water by 1 ppm;
At the beginning of the swimming season, shock disinfection is required;
When algae appear in the water, add 6-10 grams/ton of water/time;
Daily maintenance: 2 grams/ton of water/day.
Add the tablets to the system dosing device to dissolve and
then use the dosing pump to add to the system or directly spray the tablets into the pool evenly.
tableware
Kitchen appliances
Cutlery, tableware, cups, stove,
cabinet
1 piece + 1000ml water
Soak or spray or moisten for 10 minutes and then wash off
Daily necessities
Towels, bedding, underwear jackets,
footwear
1 tablet + 500ml water
Soak for 10 minutes and wash it off
Pet supplies
Pet clothes, pet nests,toys,supplies
1 tablet + 500ml water
After wiping, wait for 30 minutes and wash it off
family environment
Door and window floor, ceramic tile
table and chair, home appliance cabinet
1 piece +500ml water
After wiping, wait 31 minutes and then wash it off
Toilet
Toilet, bathtub, wash basin, shower
1 piece + 500ml water
After wiping, wait for 32 minutes and then wash it off
Kindly reminder
Putting 1 tablet into 500ml of ordinary mineral water is equivalent to 500ml of disinfectant. It is better to use with the washing machine when washing.
Kindly reminder
This product must be cleaned with water after cleaning metal products, otherwise it will corrode the metal; this product has a bleaching effect, not suitable for silk, wool, down and other easily faded fabrics and leather products, and should be used with caution for the surface disinfection of metal paint.
When soaking the clothes, the time is controlled at about 1-10 minutes. If the time is too long, it may damage the surface layer of the clothes and cause the clothes to become yellow or fade.
Kindly reminder
1. Disinfectants for external use should not be taken orally, and should be kept out of the reach of children;
2. When using this product, put the film into the water and prepare it for use now (the bracket swimming pool and the inflatable swimming pool need to be dissolved in advance);
3. The remaining disinfectant should be tightly closed after opening and use to avoid moisture, and it can be dissolved in warm water (20℃) in winter;
4. This product is corrosive to metals, bleaching and corrosive to fabrics, use it with caution;
5. Keep away from light, store in a dry place, do not expose to the sun, rain, and not mix with oil, acid and alkali substances.
Name
Chlorine Tablets
Chemical Name
Trichloroiso-hydrouric acid
Product specifications
50g
product siez
6,5*4cm
package size
6,5*4cm
Shelf life
2 years
Scope of use
Daily necessities sheet environment,
surface disinfection of tableware, containers, pipes, etc., disinfection of toilets, swimming pools, etc.
Sterzilization
Enterobacter, Staphylococcus Aureus, Pseudomonas aeruginosa, bacterial spores, Candida albicans, and can inactivate viruses.
Emergency Treatment
Inhalation: Remove from the scene to fresh air, if breathing difficulties immediately seek medical advice.
Skin: Remove contaminated clothing and rinse with plenty of running water.
Eye: Lift eyelids, rinse with running water or normal saline, see a doctor if necessary.
Ingestion: Induce vomiting, seek medical advice when necessary.
Precautionary statement
Keep away from heat/sparks/open flames/hot surfaces. No Smoking.
Avoid/store away from clothing/combustible materials.
P261 Avoid inhalation of dust/smoke/gas/smoke/vapour/spray.
P264 Wash face and hands thoroughly after operation.
Can only be used outdoors or in a well-ventilated place.
Avoid release to the environment.
If you have questions or concerns then please do not hesitate to get in contact with us.

We would love to hear from you, contact us on:

Email: [email protected]
Phone: +852 96074962
Frequently Asked Questions:
Q: How do I change the shipping address or cancel my order?
A: Please contact our Customer Service Team immediately if you need to change the shipping address or cancel your order. Please be that some orders are shipped very soon after placement and it will not always be possible to make changes to the shipping address and/ Or cancel the order.
Q: How do I use a coupon code?
A: Lucky you! To use your coupon code, add all of your glam goodies to your shopping cart, and begin the checkout process. There will be a box to enter your code, then just click "apply". Coupon code cannot be used for orders already placed.
Q: How do I opt-out of emails?
A: Why would you want to? Our fans receive all kinds of perks and special gifts. But if you want, just click the 'unsubscribe link at the bottom of any emails.